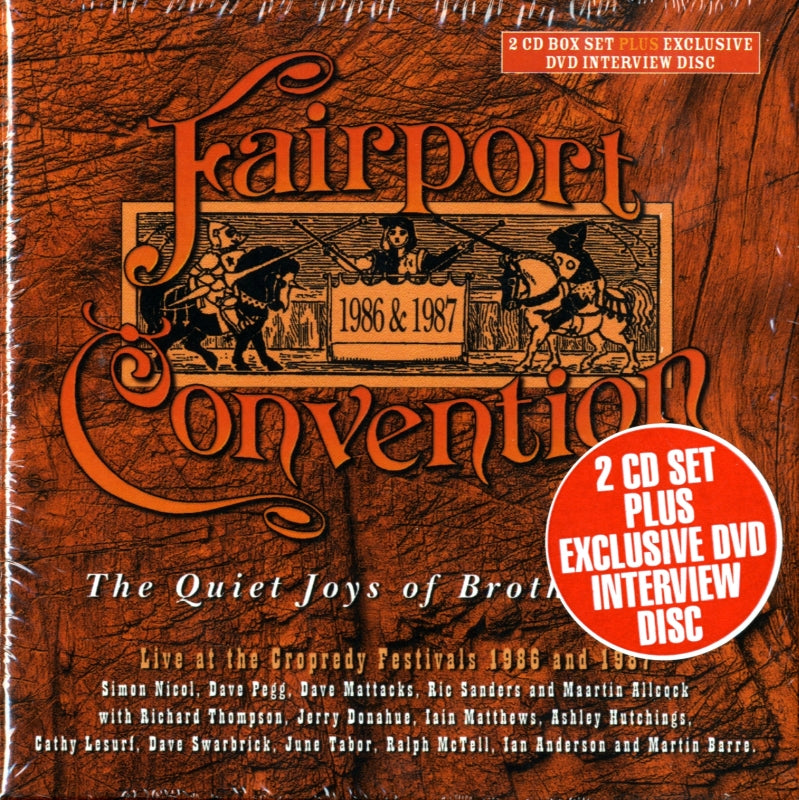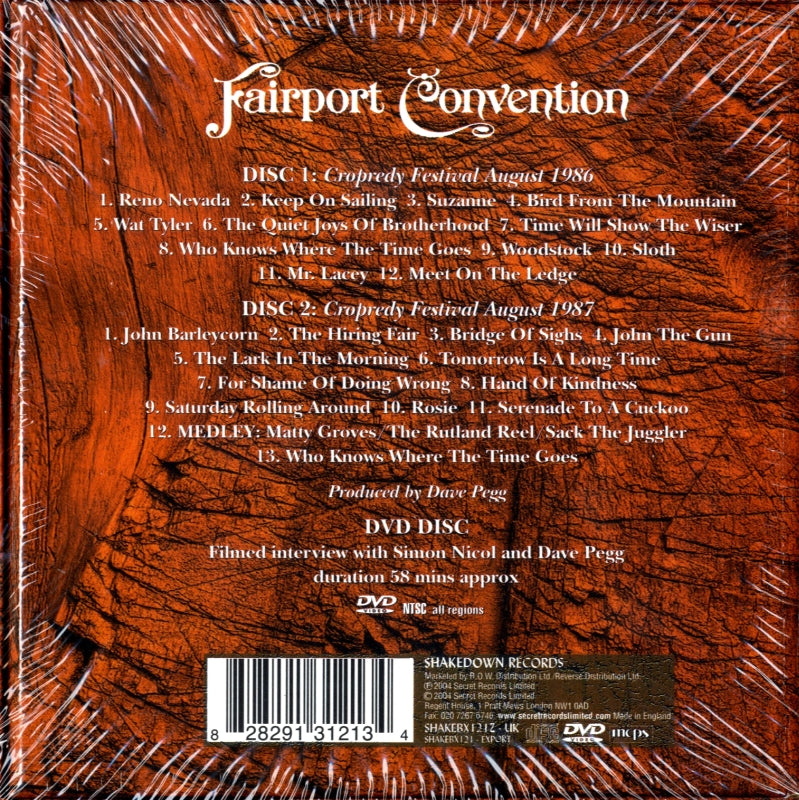 Fairport Convention
The Quiet Joys Of Brotherhood-Shakedown-2CD+DVD Album Box Set-New & Sealed
828291312134
Artist: Fairport Convention
Title: The Quiet Joys Of Brotherhood
Label: Shakedown
Cat No: SHAKEBX121Z
Format: 2CD+DVD Album
Country: UK
Released: 2004
CD Grade: New & Sealed
Tracklisting:
CD1 - Cropredy Festival August 1986
01. Reno Nevada
02. Keep On Sailing
03. Suzanne
04. Bird From The Mountain
05. Wat Tyler
06. The Quiet Joys Of Brotherhood
07. Time Will Show The Wiser
08. Who Knows Where The Time Goes
09. Woodstock
10. Sloth
11. Mr. Lacey
12. Meet On The Ledge
CD2 - Cropredy Festival August 1987
01. John Barleycorn
02. The Hiring Fair
03. Bridge Of Sighs
04. John The Gun
05. The Lark In The Morning
06. Tomorrow Is A Long Time
07. For Shame Of Doing Wrong
08. Hand Of Kindness
09. Saturday Rolling Around
10. Rosie
11. Serenade To A Cuckoo
12. Medley: Matty Groves/The Rutland Reel/Sack The Juggler
13. Who Knows Where The Time Goes
DVD - Filmed Interview with Simon Nicol & Dave Pegg (58 mins approx)
Our CD's are visually inspected under strong light. Check out our Grading Guidelines for more details. If you are not 100% happy for any reason with your purchase, we have a money back guarantee. If you have any questions, please don't hesitate to contact us and we will be happy to answer your queries.